Why Today's Housing Market Isn't Headed for a Crash
A recent survey indicates that 67% of Americans think a housing market crash is imminent in the next three years. And, with all the talk in the media lately about shifts in the housing market, it makes sense that so many people would feel this way. But there's good news. Current data shows today's housing market is not headed for a crash because the market is nothing like it was before the housing crash in 2008.
Also, the majority of Americans (78%) still perceive home ownership to be an integral part of the American dream. While inventory needs to improve and prices need to adjust to today's market, this is good news that also indicates the housing market is not headed for a crash. We recently wrote a blog about this specific topic.
Back Then, Mortgage Standards Were Less Strict
During the lead-up to the housing crisis, it was much easier to get a home loan than it is today. Banks were creating artificial demand by lowering lending standards and making it easy for practically anyone, whether they were credit-worthy or not,  to qualify for a home loan or refinance an existing one.
As a result, lending institutions ended up taking on much greater risk in both the person and the mortgage products offered. Unsurprisingly, that led to mass defaults, foreclosures, and falling prices. Today, things are different. Lenders tightened up their lending requirements and homebuyers must meet higher standards from mortgage companies to qualify for a loan.
The graph below uses data from the Mortgage Bankers Association (MBA) to help tell this story. In this index, the higher the number, the easier it is to get a mortgage. The lower the number, the harder it is.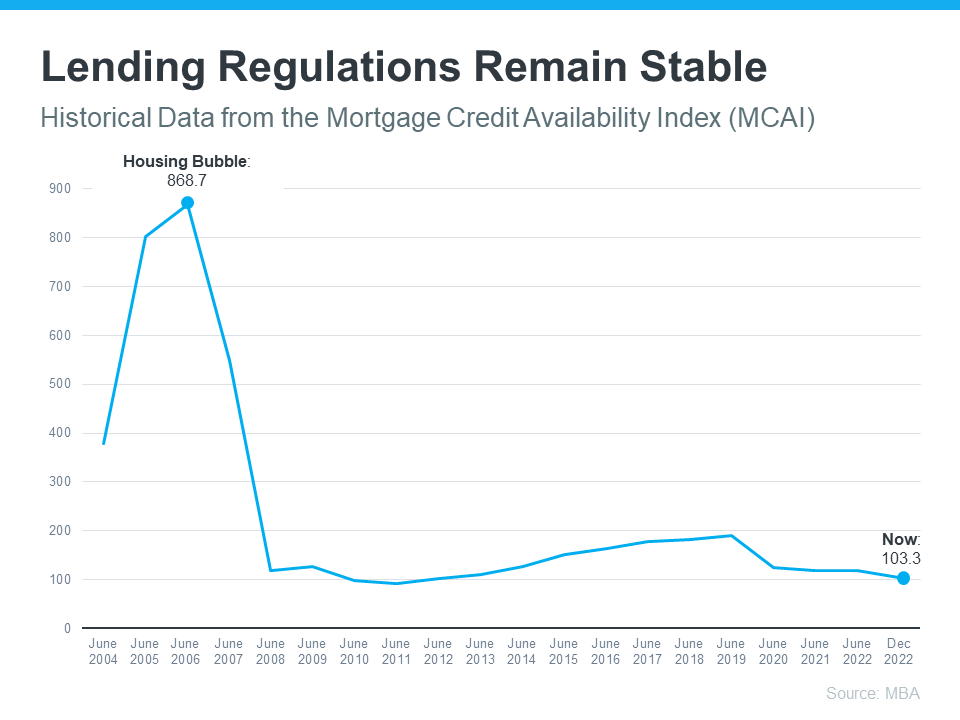 This graph also shows just how different things are today compared to the spike in credit availability that led up to the 2008 crash. Tighter lending standards have helped prevent a situation that could lead to a wave of foreclosures like the last time.
Foreclosure Volume Has Declined a Lot Since the Crash
Another difference is the number of homeowners that were facing foreclosure when the housing bubble burst. Foreclosure activity has been significantly lower since the 2008 crash, largely because buyers today are more qualified and less likely to default on their loans. The graph below uses data from ATTOM to show the difference between then and now: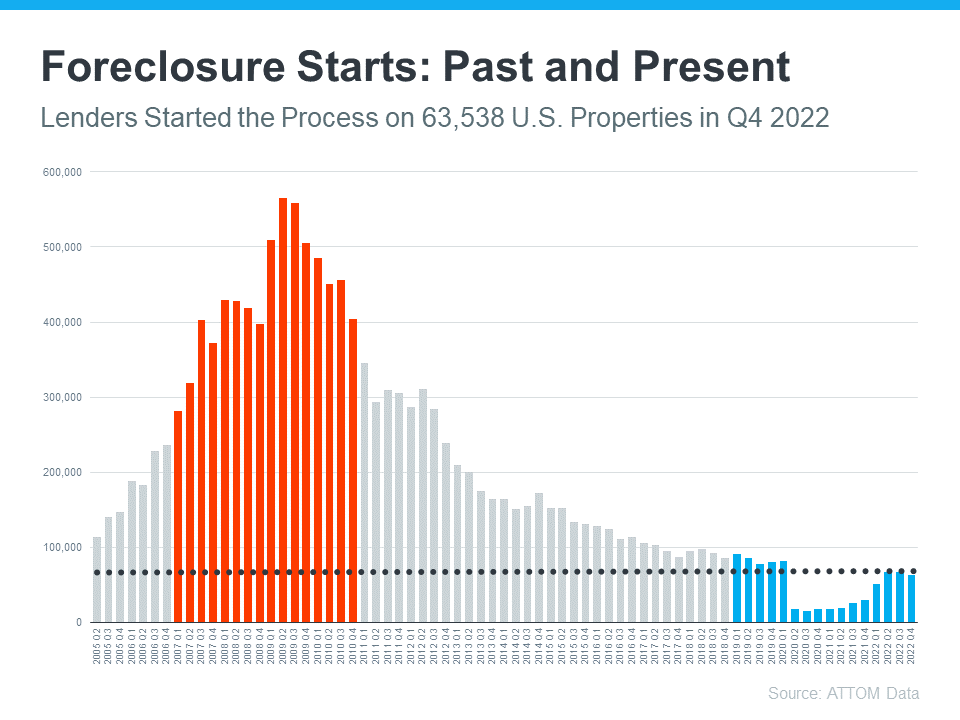 So while foreclosures are ticking up, the total number is still very low. And on top of that, most experts don't expect foreclosures to go up drastically like they did following the crash in 2008. Bill McBride, Founder of Calculated Risk, explains the impact that the large increase in foreclosures had on home prices back then – and how that's unlikely this time.
"The bottom line is there will be an increase in foreclosures over the next year (from record level lows), but there will not be a huge wave of distressed sales as happened following the housing bubble. The distressed sales during the housing bust led to cascading price declines, and that will not happen this time."
The Supply of Homes for Sale Today Is More Limited
To put things into a historical context, there were too many homes for sale during the 2008 housing crisis (many of which were short sales and foreclosures), which caused home prices to fall dramatically. While supply has increased since the start of this year, there's still a shortage of inventory available overall. This is primarily due to years of underbuilding homes.
The graph below uses data from the National Association of Realtors (NAR) to show how the supply of homes available now compares to the crash. At the current sales pace, unsold inventory sits at just 2.7 months today, which is significantly lower than back in 2008. In other words, there isn't enough inventory on the market for home prices to come crashing down like they did the last time, even though some overheated markets may experience slight declines.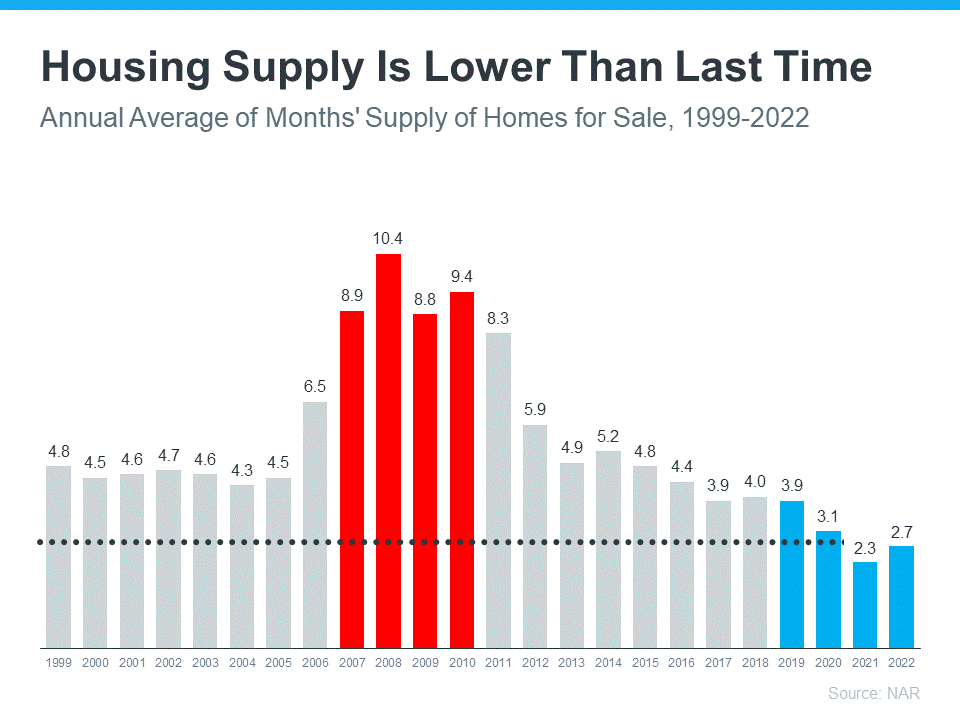 The Bottom Line
If recent headlines have you worried that we're headed for another housing crash, the data above should help ease those fears. The good news is that the most current data, coupled with expert insights, clearly show that today's market is nothing like it was back in 2008.
At Troy City Mortgage we've been simplifying homeownership since 2017. Let's connect if you want to learn more about the housing market in our area. We can also pre-qualify you for a mortgage so you'll know how much house you can afford.